If you're looking for the best metal detector for coins, it is important to understand what makes a good coin shooting detector. There are many different types of detectors on the market so before you make your final decision, take time to read this blog post and find out which one suits your needs.
Best coin metal detectors in 2023
Garrett AT Pro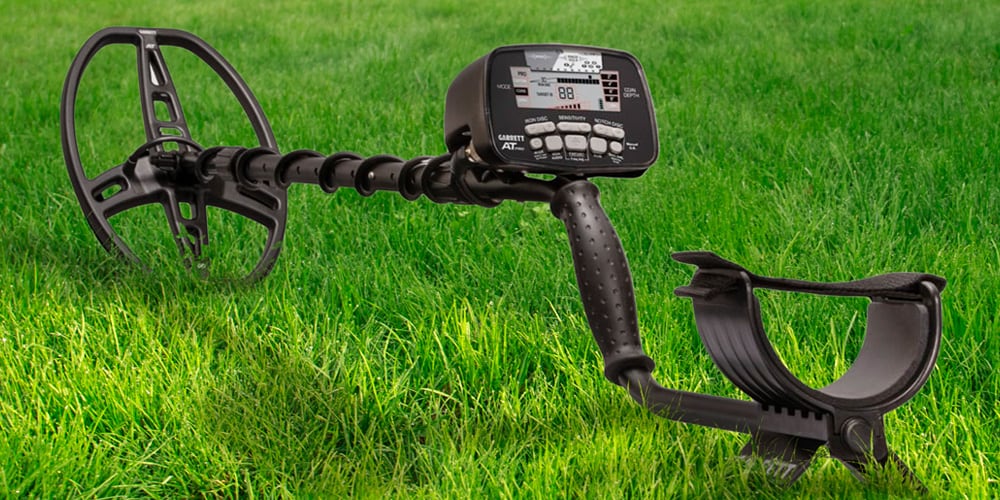 What we like:
Fully waterproof and submersible to 10 ft
Manual and auto ground balance
Proportional audio
Iron audio
What we don't like:
Underwater headphones sold separately
For those who enjoy hunting around ponds and lakes, the AT Pro is a fantastic choice. Not only does it have a waterproof design that can withstand up to 10 feet deep water with no problem but also has amazing detection ranges so you don't need any additional equipment for underwater exploration!
The AT Pro has both automatic and manual ground balance. Ground balancing is a feature that makes it easier for you to find things at deeper depths by ignoring signals from mineralized ground, like iron or salt.
Proportional audio or "Pro Mode" enables listeners to hear the characteristics of a target such as conductivity, shape and depth. Listeners will experience multiple tones (snapping and popping) which represent this data in an exciting way
Iron audio is a great feature for hunters. With this option turned on, your detector will emit low and grumbling tones to indicate if there's iron in your target – which can be very useful when hunting coins!
Nokta Makro Simplex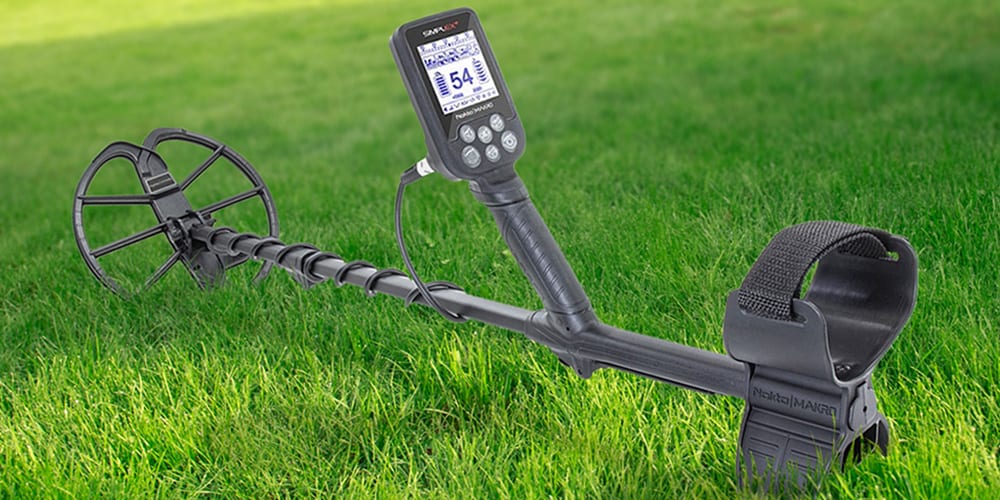 What we like:
Mid-level detector performance for an affordable price
Powerful DD coil
Fully submersible to 10 ft
Built-in rechargeable battery
Wireless audio when used with compatible headphones
What we don't like
Controls not as basic as other entry-level detectors
The Nokta Makro Simplex is the perfect detector for anyone who wants to get started in metal detecting. It's waterproof, lightweight, and easy to use!
There are a lot of entry-level detectors on the market today that don't offer the same depth or features as other high-end models. This can make it hard for newbies to find a good starter model without spending too much money.
The Nokta Makro Simplex offers all of the basic features you need at an affordable price point, while still being able to detect objects both on land and in water. Whether you're looking for treasure or just want something fun and exciting to do this summer, this is your best bet. This is the perfect metal detector for anyone who wants to get into serious treasure hunting without breaking the bank.
Fisher F22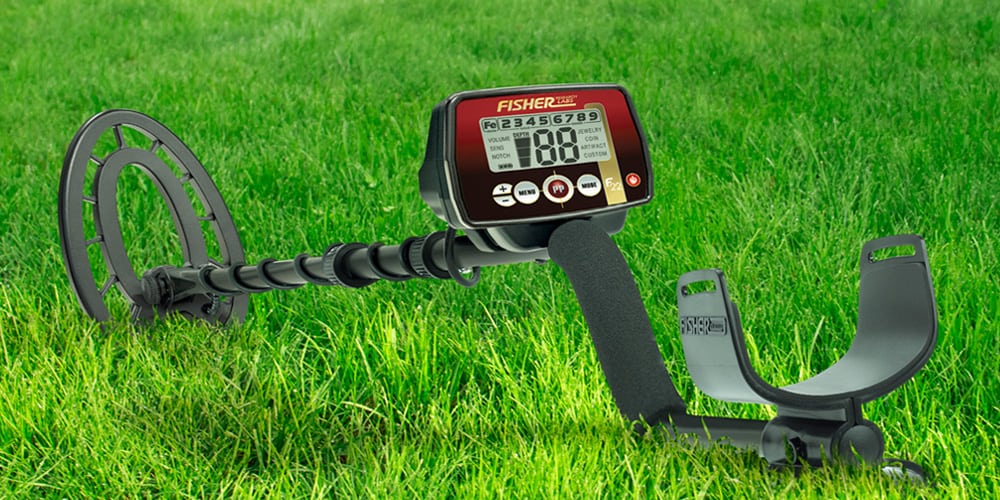 What we like:
Weatherproof
Iron Audio
Fast Recovery (Processing) Speed
Digital Target ID
Lighter, easier to use
5 Year Warranty
What we don't like
No adjustable ground balance
The Fisher F22 metal detector can be used in all weather conditions. It has a high-temperature resistant coil that allows you to hunt anywhere from the beach to your backyard with no worries about rain or snow getting into your device. This feature makes the F22 perfect for hunters who want to use their metal detectors year-round without having to worry about damaging them during inclement weather.
This was designed specifically for beginners in mind, who want an affordable option that doesn't feel like they're using a toy. The F22 is waterproof, lightweight, easy-to-use and packed with features that help you get more out of your time spent hunting for treasure!
Bounty Hunter Tracker IV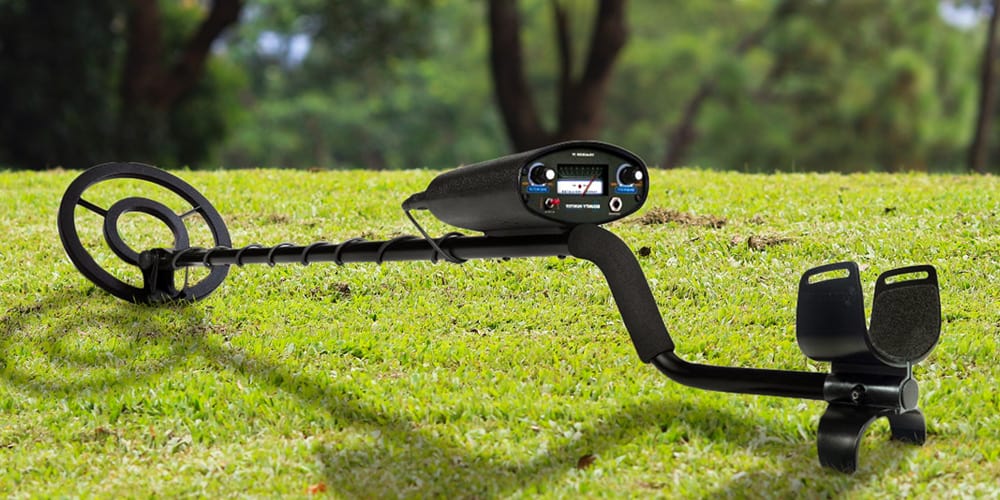 What we like:
Price
Easy to use controls
Great for kids
What we don't like:
No pinpoint mode
No notch discrimination
No visual target ID
Analog meter
If you're looking for a metal detector that is easy to use, lightweight and affordable then the Bounty Hunter Tracker IV just might be right for you. The Tracker IV doesn't have all of the bells and whistles found on more expensive models, but it does offer great value for your money (especially if you're shopping for your kids).
This affordable detector has an analog meter that makes it easy for kids and beginners to learn how the unit works without getting too technical about the science of metal detection. The controls are simple enough so that anyone can quickly master them with practice – no need for manuals! Three search modes include all-metal mode (useful for relic hunting and gold prospecting), full discriminate mode (for ignoring junk and unwanted targets) and tone discriminate (for dual tones and automatic iron rejection). You won't find features like depth indicator, target identification or adjustable ground balance here, but you will have fun using this detector.
Minelab CTX 3030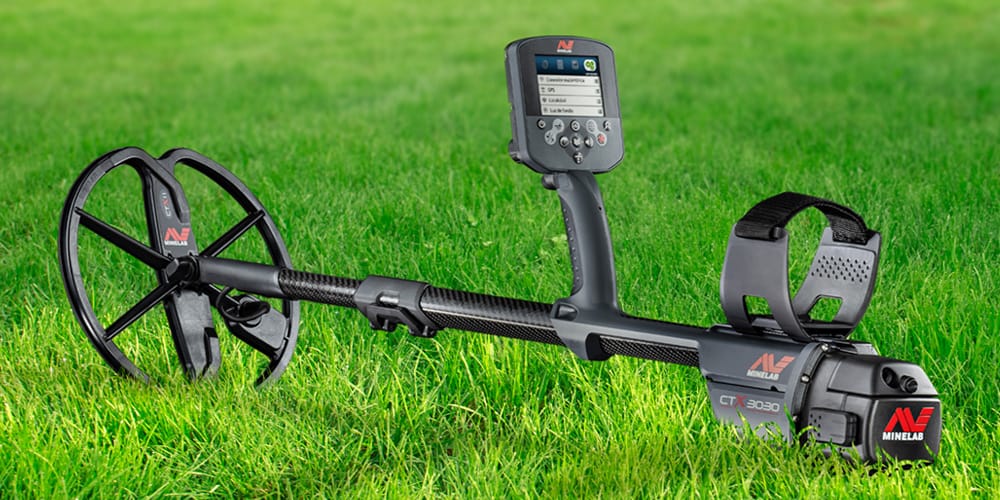 What we like:
Superior discrimination settings and target ID
Don't need to buy separate land machine
Lots of coils available
LCD display
Fully submerisble
Full-color display
What we don't like:
Price
Can't be used for diving
The CTX 3030 is the ultimate treasure detector. It's the most advanced, feature-packed metal detector on the market today. It's fully waterproof and can be used in all-terrain conditions. You'll find more treasures than ever before with its most accurate target identification available. The CTX offers superior discrimination settings and target ID, so you can easily find coins or jewelry without having to dig up trash like cans or rusty nails.
The CTX 3030 uses its Target Separation feature to display information about multiple targets on the same full-color screen at once. It also comes with an adjustable Tone ID Profile so you can customize what sound each type of metal makes when detected. Plus, this device has Ferrous and Conductivity target resolution for better accuracy in different environments.
This versatile metal detector makes finding treasure easier than ever before. You won't need another machine if you want to hunt both land and water because the CTX does double duty as a fully submersible metal detector (even in saltwater). It's perfect for coin shooting, gold prospecting, jewelry detecting, relic hunting and much more!
Buyer's Guide
Metal detecting for coins (coin shooting) is by far the most popular form of metal detecting today. People have been dropping coins in this country for hundreds of years and will continue to do so for hundreds more. The thrill of finding treasure is unmatched by anything else out there. You never know what kind of valuable item you might stumble upon next while searching through the dirt with your metal detector. If you love history or just want to make some extra cash on the side then this is definitely something you should try. There's no better time than now to get started on your own adventure into coin shooting!
This article will help you choose the best metal detector for coins (for other types of machines, see this guide to the best metal detectors). We have done all the research for you and put together this guide on how to choose the best metal detector for coins. You will learn what features are important when it comes to choosing a machine, as well as some budget-friendly options that won't break your bank account. Whether you're searching for old silver coins or just modern-day change, this guide is for you!
​What to look for in coin detectors
There are many factors that go into choosing the best coin detector, but it can be hard to know where to start. There are many factors that go into choosing the best coin detector, but it can be hard to know where to start. The market is flooded with different brands and styles of detectors, each claiming that they're the best choice for you. But not all metal detectors work equally well for all types of hunting; some are better suited for finding large objects like deep caches while others do well when searching for smaller relics like gold nuggets, jewelry or buttons. These variables make it difficult to choose which one is right for your needs without spending hours researching online forums and comparison shopping at local retailers.
I'm going to get into some specifics on what technologies and features to look for in the more advanced coin detectors, but let's straighten out some basics.
Can all metal detectors detect coins?
Every metal detector will detect coins – whether it's a $50 machine or $10,000. Coins are metal, and metal detectors, well, detect metal.
Metal detecting is a hobby enjoyed by millions of people, but it can be expensive to get started. And if you're like most people, you want to find coins and other cool stuff as inexpensively as possible. You probably don't want to spend $10k on a metal detector that will also detect gold nuggets
So what do we recommend if you're on a budget? The Nokta Makro Simplex is the best option. It has all the features an experienced treasure hunter would need at a price anyone can afford. It's lightweight so it's easy to carry around, weatherproof so it won't break when exposed to moisture (like rain), and powerful enough that even an inexperienced user will still find lots of goodies with this machine!
What is the absolute best detector for coins?
There is no "best" metal detector for coins – there are best coin detectors for different price brackets. That's why all the detectors listed in this post are at various price points. In the end, it's up to you to decide which coin detector fits your price range and needs best. While all these machines will do a great job finding coins, each has its own strengths and weaknesses that make them more or less suitable depending on your personal preferences.
Can a metal detector detect gold coins?
Yes, any metal detector can detect gold coins. You do not need a "gold" detector to find gold coins. Gold detectors are meant for nugget hunting – not coins. In fact, I don't recommend using a gold detector as your primary coin hunter, period (more on this later). Some people think that if they buy a "gold" metal detector then it will be easier to find gold coins. This is not true. You can easily detect all types of coins using your standard VLF machine (the most popular type of metal detector on the market). It just takes practice, knowledge, and patience.
What frequency is best for coin detectors?
If you're hunting for old coins, you're going to need a detector that can accurately ID targets greater than 6" – generally speaking. Coins gradually sink over time, so the older you want to find, the deeper you'll have to go. I say accurately because a lot of machines (entry and mid level) will detect a silver 1913 Barber Quarter at 10", but it likely won't have any idea what it is. In fact, there's a good chance the detector might tell you it's a trash signal, or even just a ground signal! The signal from the coin will be too weak on the entry/mid-level detector to accurately identify causing you not even to dig and walk right on by.
Not good.
Operating frequency is one of the biggest factors to consider when choosing a coin machine for maximum depth. Metal detectors with a low frequency (2-4 kHz) will hit much deeper than your average all around machine which is typically 5-10 kHz. Remember that metal detector manufacturers design the majority of their machines to meet the needs of the average all-around detectorist – this means coins, jewelry, and relics. But since serious relic hunting typically requires a higher frequency (10-20 kHz), most all around machines cater to both coin AND relic hunters with operating frequencies in the 5-10 kHz range – a happy medium.
Going back to our gold nugget detector example from above, these machines also require a much higher frequency which makes them a bad bet for coin hunting. Also, a lot of gold nugget machines use an entirely different technology called Pulse Induction which I do not recommend for coin hunting. For more on nugget hunting, see our guide to the metal detectors for gold.
So remember, if you want a machine that's going to hit deep on old coins, the lower frequency is better. But what if you want a detector that's both an all-around machine AND perfect for deep, old silver? Well, then you'd want a detector with multiple frequency technology. This is where things start getting expensive but are totally worth it if you're serious about metal detecting.
Minelab is the brand you want to look at when it comes to mutli-frequency machines. They have a technology called Full Band Spectrum (or FBS as you'll see in most sales/marketing material). While most all detectors broadcast using a single frequency, Minelab FBS machines broadcast at 28 different frequencies ranging from 1.5-100 kHz, simultaneously!
Since most of us probably don't want to pay over $1k for a metal detector, let's touch on some of the other features to look for in a coin detector.
What is ground balance?
Ground balance is a feature that will allow you to ignore the signals coming from the ground. Yes, metal detectors will pick up on microscopic particles like iron and salt! Most entry-level detectors have a "preset" ground balance, which means you cannot ground balance the machine yourself – not good. Ideally, you would want something where you can either manually or automatically adjust the balance to your specific ground conditions. This will allow you to get much better depth and target ID, which means you won't skip over those 'iffy' signals.
Coil selection for coin shooting
I would also advise you to choose a detector that has multiple accessory coils available should you have the funds to purchase some or all of them in the future. Different hunts and locations require different coil types and sizes. Some hunts might warrant a smaller, double D coil where others a larger concentric coil. Several factors go into this decision including ground mineralization, trash density, and your experience pinpointing.
Speaking of pinpointing, that brings us to our next topic.
Pinpointing
There is an age-old debate among experienced detectorists on what type of coil configuration is best for pinpointing? Is it concentric or DD?
Technically speaking, concentric coils are better for pinpointing, but let's not get technical here. All you need to know is which type of coil you are more comfortable with and can better pinpoint targets. You'll only figure this out by trial and error. I personally feel more comfortable using a DD coil even though I openly admit that concentrics are better at pinpointing (don't tell anyone I said that).
Why is this important? For two reasons:
The first is that you'll dig much smaller holes the better you are at pinpointing. And since most of you will be hunting in public areas like schoolyards, parks, and churches, you'll want to dig as small a hole as possible (see my post on responsible metal detecting here).
The other reason is that you're hunting for coins that could potentially be 100s of years old (thousands if you're in Europe). And do you know what's worse than anything when you finally dig that elusive 1913 S Barber Quarter? A big ole scratch right down the middle… Trust me, pinpointing is important so choose a coil that makes you feel comfortable.
Final thoughts
I hope this article was helpful and gives you a better idea of what to look for when choosing a coin metal detector. If this will be your first detector, my parting advice to you is not to get too bogged down in the specs on the machine (assuming you're buying an entry or mid-level detector like the Nokta Makro Simplex or Garrett AT Pro).
If you stick with a quality detector from one of the major brands, you really can't go wrong. Remember, the target audience for this article is mainly those who are looking for a higher-end detector that's going to accurately find old coins at great depths. If you've never used a metal detector before, my advice is to start out with an entry or mid-level machine, learn it, then upgrade in the future. An expensive, expert-level detector is only as good as the person using it.
So, now that you've learned about what to look for in a metal detector and which one is the absolute best at detecting coins, it's time to buy your new coin shooter. Don't wait any longer! Your treasure awaits…