Beach metal detectorists know how important it is to have the best possible equipment in order to be successful. If you're looking for a sturdy, high-quality sand scoop that will last through all of your treasure hunting adventures, then this article is perfect for you! We've put together some helpful tips on what to look for when choosing the right scoop and also provided reviews on some of the best sand scoops for metal detecting.
Best Long Handle Sand Scoops
These are the best sand scoops for metal detecting in both wet sand and water, and can make a huge difference to anyone who has aches and pains, or wants to safely search shallow water or sand without injuring themselves. When you don't have to bend over to dig a target out of the sand, it can prolong the amount of time you get to metal detect. They allow the user to dig whilst standing, and when beach targets come quickly and frequently, this can save you a lot of trouble.
Here are some of the best long handle sand scoops available:
RTG Pro Aluminum 47" Mini Water Scoop
Made from aluminum to ensure it is lightweight and durable, this has a bucket that is 5 inches in diameter and 9 inches long, allowing you to get an accurate scoop for faster retrieval.
When you want to take the strain off scooping, the 20-degree angle of the handle makes it easier to use your foot on the back of the scoop, and delve it into the sand to remove your treasure.
The orange rubber handle makes it grippy and comfortable to hold so when you push this 47-inch long scoop into the sand, it'll be much easier.
CKG Sand Scoop
Made from durable stainless steel, this anti-corrosion and wear-resistant scoop is tailor-made for the demanding elements of beach detecting.
It is hardy enough for sand with silt or clay, but also clogged sand that has shells and stones standing between you and your target. Because this is a stainless steel scoop, it is easy to clean and with 7mm holes, the sand can easily exit the scoop, leaving the treasure to shine as you lift.
Shaking this scoop from side to side will encourage any thicker clumps out, and with 45.5 inches of length, you're not going to need to strain to pull that latest find out of the sand.
Best Short Handle Scoops
The main benefit of a short handle scoop is that you get better control over the dig, but they do need a little more work on your part as they don't get through wet sand as easily as a long handle. Also, they require you to bend down. Still, with a big enough bucket, you won't need to keep going back into the sand and these are compact, and easier to fit into a bag than many long-handled scoops.
National Geographic
The name National Geographic is synonymous with exploring and adventure, and their sand scoop for metal detecting doesn't let their reputation down one bit.
The heavy-duty plastic doesn't give you the same strength as other products, but it is affordable, and compact, making it excellent for saving space.
At 12 oz, it is also one of the most lightweight sand scoops available, and the short handle method is great for kids and adults.
Measuring 7.7s inches tall, the sifter has plenty enough room to gather the area around your find, making for an enjoyable time spent detecting the beaches in your area.
RTG Speedy Sand Scoop
Made from aluminum and weighing just 12 oz, it has a good blend of strength and lightweight transportation, this short handle scoop is ideal for wet and dry sand.
Its ⅝ inch diameter holes allow it to siphon out sand, leaving you with a new find without having to keep scooping. The bucket measures 5 x 7 inches which is a decent capacity for anyone and its curved handle is grippy, making for easier digging. Overall, it is perfect for retrieving finds in any conditions, and the build materials give you confidence that it will last a long time.
CKG Stainless Steel Sand Scoop
This is the best short handle sand scoop because it has 7 mm hexagonal holes that are better for allowing sand to escape, and is made from high-quality stainless steel. This means it does weigh a bit more, but at 1.6 lbs, it will still be comfortable to carry on a hunt at the beach.
Perfect for dry sand and surf lines, it has a grippy handle and feels strong when scooping shells and large quantities of wet sand. A durable product, the anti-corrosion stainless steel ensures it is the only short handle scoop you will need for some time.
Best Medium Handle Scoops
Many detectorists enjoy the fact that you still don't need to bend down as far to retrieve a find with a medium handle sand scoop. It also gives you a good mix of control and length so it is often seen as the best of both worlds for detecting on the beach. Most medium handle scoops will measure knee-high, which means they are also compact enough to comfortably transport between digs.
Pro Knee High Sand Scoop
With solid metal construction, this knee-high sand scoop is made to catch coins and rings whilst it lets sand fall through the multiple holes.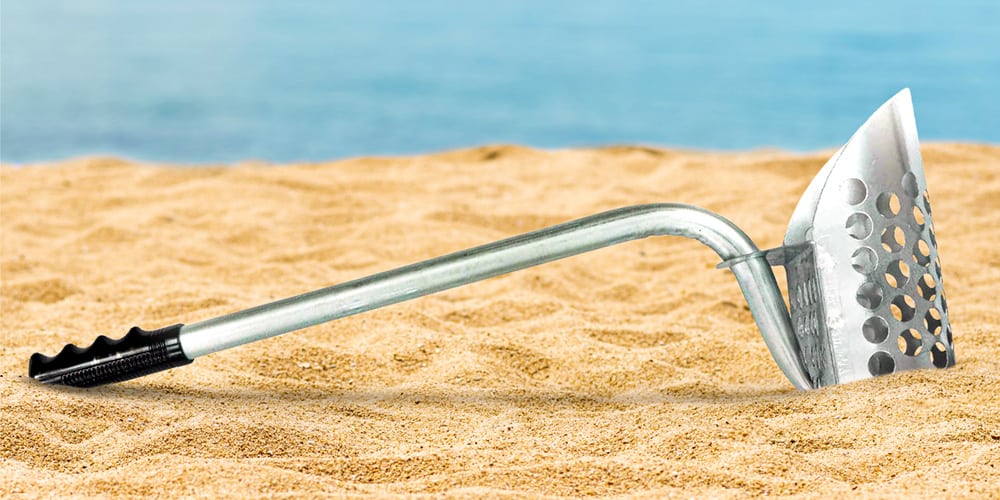 It makes sifting through sand a lot easier as you locate those finds thanks to its 24-inch reach. The shape of the handle makes this sand scoop more comfortable than most and it works just as well in both wet and dry sand.
RTG 33″ Sand Scoop
One of the strongest sand scoops you can get your hands on, this is lightweight at under 2 lbs, yet made from 16 gauge steel to make it ideal for beach hunting.
With a 5 inch diameter, it has plenty of room to scoop treasure and with a ½ inch wire-wielded screen, only the sand is getting through.
A fixed 28-inch long handle gives this a total reach of 33 inches, and a rubber hand grip at the other end makes for comfortable retrieval of rings, coins, and anything else your detector picks up.
Metal vs Plastic
Stainless Steel Scoops
If you are looking to purchase a sand scoop that will last a long time, you may need to pay a little extra. This is worth your while as it will likely land you a stainless steel scoop. They are more durable, tough enough to withstand the challenging conditions of beach hunting, and are best used in saltwater as they will not rust as other metals do.
A carbon fiber handle can reduce the weight, which is the only issue with stainless steel, yet this is to be expected with something so strong and dependable. You can't go wrong with stainless steel.
Aluminum Scoops
Anyone looking for a lightweight scoop will find aluminum options to be a good fit. They won't weigh you down so are well suited to the lengthy trips to the beach where you are planning on searching for many hours at a time.
However, they are not the best for salt water as corrosive environments will take their toll on the scoop eventually. Still, they can be a great digging tool as they can still last a long time when maintained properly.
Plastic Scoops
These are fine for the hobby detectorist who doesn't go beach detecting as frequently. They are highly affordable, can be fine for digging dry sand, but will not fare so well in heavier, wet sand. If your children are looking to get into metal detecting, then these lightweight scoops can be a good option.
Types Of Holes In Buckets
The basket is where you will hope to pick out a rare find, but before you start bringing it out of the sand, you need to know that it isn't going to slip through the holes, causing you to get your detector out again.
Hexahedron Holes
There isn't a lot between the different holes, only that hexahedron holes can cause sand to clump a little more than the uniform round hole options. These tend to be easier for allowing sand through although there isn't much of a difference between the shapes.
Wire Mesh
These are fine for dry sand, but when considering a sand scoop for water recovery, mesh does not fare so well. Mud and sediment can ruin the mesh, causing damage faster than you would expect it to usually. However, they are better for retrieving small targets in dry sand, so can work well as long as you don't run into wet sand as you dig.
Other Features To Consider
Comfortable Grip
You want to be able to dig through tough wet sand, shells, and rocks in comfort. Even where mud and sediment are present, the grip shouldn't cause blisters or hand pain when using a quality sand scoop.
There are different types of grips, but a rubber hand grip does add to the comfort and inspires confidence as you push the basket into the sand. A comfortable grip is important for accurate retrieval of those valuable finds.
Larger Holes
There needs to be a balance here, but holes that are large enough to let sand sift through with ease will make it more comfortable to use as it will lose sand faster. It will also make the whole process easier and more comfortable, but be mindful, as holes too large can result in small finds disappearing back to the ground. This is why you should be mindful when looking for gold earrings, although they tend to be fine for retrieving rings and coins.
Correctly sized holes can also put less strain on the scoop itself, allowing sand to sift through and putting less strain on you and the device.
Length Of The Handle
This very much depends on the person using it. The shorter the handle, the more the user will need to bend down to retrieve the find. This is going to require more energy and can take its toll on longer hunts.
When hunting in water or around the surf's edge, a longer handle will allow you to get deeper to find your targets.
Handle length of around 47 inches long will be ideal for water, but can also take the strain off hunting on the beach. Anything of 24 inches and longer will still work well on sand.
Longer handle scoops also allow you to use your foot to dig. Just step on the back of the scoop to dig down into the sand.
Shape Of The Basket
You will get different angles, but many are straight which can make it tricky to get a good position when digging in the sand.
An angled sand scoop is better for digging through obstacles such as shells, small rocks, and seaweed that can slow you down and otherwise may require moving manually.
This defies the point of a sand scoop as it can mean you need to bend down to move an item out of the way, so go for an angled option where possible.
Convenient Storage
The more tools you take to the beach, the trickier your hunt can be. Sure, these tools are often made to make your life easier, but if you can't store them easily, they're not so convenient. This is especially true when bringing your scoop on a beach vacation.
This can mean the medium or short-handled sands scoops are better as many of them fit into a carry bag, or will attach to the side of a bag without getting in the way.
Before storing it at the end of a day's detecting on the beach, be sure to wash your scoop with fresh water and dry it thoroughly before putting it away.
Curved Handle
The handle of a sand scoop is everything. You can't dig properly without the right handle, and it also makes it easier to grip when pushing through wet sand. It allows for a smoother scooping motion, something that many detectorists will find desirable.
Basic handles are straight, and tend to be the most common. This can protrude at an angle from the scoop, or straight and will be fine for most people hunting on the beach.
A kick handle works well with longer handle or knee high products as it protrudes out and at an angle then curved downwards.
Weight
A lot of people wonder how much a metal detecting sand scoop should weigh, and the answer isn't so straightforward. Stainless steel weighs more than aluminum and is considered to be the more high-end, durable option. But there needs to be a balance.
Moving around for long hours on the beach can take its toll so you can't be lugging something too heavy. Still, it needs to be able to get through wet sand, and a lot of the more durable options tend to be heavier. Remember that the bigger the basket, the more a scoop will weigh so you also need to consider this as wet sand can make a scoop rather heavy for some.
Also if you're hunting in deeper water without a lot of waves or current, your scoop can float alongside you while you hunt.
Why Do I Need A Sand Scoop?
It doesn't matter what terrain you are hunting on, you need a reliable digging tool. When it comes to sand, some people might think they can use their hands, but this is inconvenient as sand falls back into the ground, covering the treasure before you can get close to retrieving it.
Many experienced beach detectorists wouldn't leave the house without one, as they know just how convenient they are. Because they can be purchased with a long handle, sand scoops are the perfect accompaniment for anyone who suffers from back complaints, knee pain, arthritis, or shoulder pain.
Sand scoops are designed to help a detectorist safely and quickly sift through sand and recover targets before they become buried again. But they are not all built the same, and you need something that can withstand the elements, meaning the likes of stainless steel are better suited to saltwater.
Final Word
With so much choice, it can be difficult to know where to start, but there are different types of conditions to consider, so it isn't always a case of one size fits all. The best thing to do before buying is think about your unique needs. Is it more important to get a strong scoop for wet sand and water, or something lightweight and easier to carry for long detecting sessions on the beach?
Hopefully, it will be easier to find the perfect sand scoop for pulling those valuables out of the sand now that you know what to look for.