Imagine a fully waterproof metal detector packed with expert-level features – all at an affordable price. Imagine a detector that can be used in all terrains and can uncover targets ranging from platinum rings on a saltwater beach, to gold nuggets on a claim out West. I give you, our review of the Garrett AT Pro.
What we like:
Fully waterproof and submersible
Manual and auto ground balance
Proportional audio
Iron Audio
What we don't like:
Single-frequency
Waterproof headphones sold separately
No back-lit display
Now let's dive deep into the features of the AT Pro!
Waterproof & submersible
The AT Pro is waterproof up to 10 feet which is perfect for hunting around ponds, lakes, creeks, rivers, and even the ocean. Having a detector that's completely waterproof is unique in that the only other waterproof machines on the market are built specifically for water hunting and shouldn't be used on land (except the AT Gold and CTX 3030).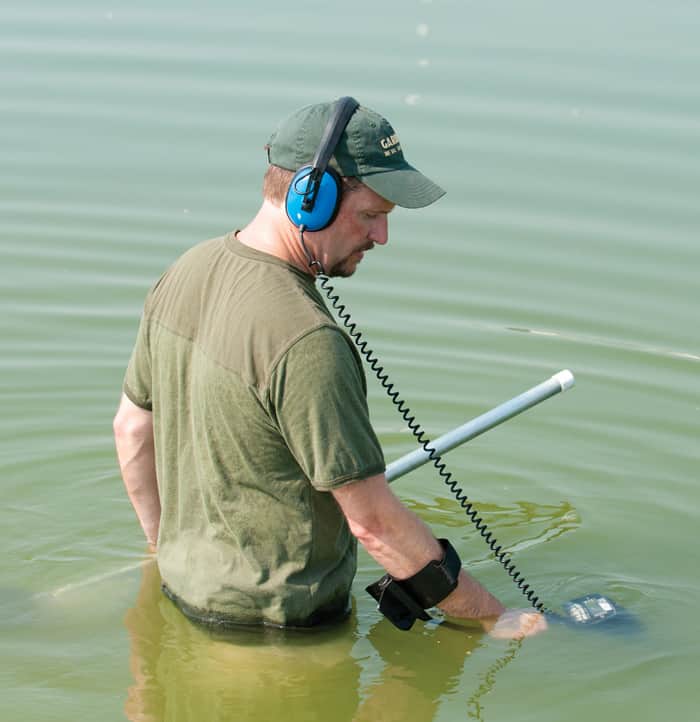 Even if you just want to hunt in a shallow creek, it's too easy to slip on a rock or drop your detector by accident. If that happens and your machine is NOT waterproof, you just lost your machine. If you have any desire to hunt in or near a water source, you should take a closer look at the AT Pro.
It's worth noting that the stock headphones are NOT waterproof and should not be used near water. Garrett sells the waterproof headphones separately and can be found here. There's also a great aftermarket brand of waterproof headphones which I find more comfortable. They are the DetectorPro Gray Ghost Amphibians and can be found here.
Proportional audio (Pro Audio)
Proportional audio or "Pro Mode" audio is an advanced feature that emits way more than a single tone when over a target. You'll hear many simultaneous tones (snapping and popping) which represent the characteristics of the target including things like conductivity, shape, and depth.
Proportional audio can be turned on and off depending on user preference, experience, and skill level. When turned off, the machine audio will sound much like the monotones of the ACE series. Once you master this audio mode, you'll find yourself digging less trash and more treasure.
Iron audio
Iron audio is an advanced audio feature that allows you to hear discriminated iron in a way where you KNOW there's iron in the ground. Your detector will emit very low, grunting tones that indicate the target has iron (ferrous) content and is likely trash (unless you are relic hunting for iron targets).
This feature is extremely useful for all types of hunters, but especially coin shooters. Coin shooters will typically hunt with iron totally discriminated (or notched out).
But when a coin shooter hits a questionable signal and can't decide whether to dig, they can flip on Iron Audio and instantly determine if any iron exists in the target. This feature saves you from digging trash so you can spend more time digging good targets.
Automatic & manual ground balance
The AT Pro has both manual and automatic ground balance capabilities. Ground balancing is a feature that allows the detector to ignore signals from the ground like iron and salt. Not only does ground balancing cut down on the chatter of ground signals, but it also allows your detector to find targets at deeper depths and with better target ID accuracy.
So if you live in areas of the country with highly mineralized soil (or hot ground), you're going to want a metal detector with this feature for sure.
Frequency
The AT Pro frequency is 15 kHz and can be adjusted to four slightly different frequencies if there is interference from EMI or other nearby detectors. This frequency is great for finding targets of all sizes.
The reason I list this as a con is that it is only a single frequency machine – as is almost every machine on the market apart from high-end Minelabs and other specialty machines. With single frequency, detecting on saltwater beaches is not ideal. So if you live by the coast, this can be a problem.
Even though Garrett's marketing material says the AT Pro can be used on saltwater beaches, this just isn't the case. Don't get me wrong; you can certainly use the AT Pro on saltwater beaches. But if you plan to get in the water or wet sand, you're going to get a lot of chatter even with ground balancing and the DD coil. All that chatter is going to mask good targets but more importantly, limit your depth capabilities.
It's important to note that this will be the case with ANY single frequency machine – not just the AT Pro. It's simply the nature of the technology.
AT Pro coils
Serious metal detectorists know that to be effective in your hunts; you need to use different search coils for various applications. Here are the accessory coils that Garrett makes for the AT Pro:
4" DD sniper for getting into tight spaces as well as hunting in high trash areas.
5 x 8" DD for high trash areas and better target separation.
6.5 x 9" concentric for neutral ground in low trash areas.
9 x 12" concentric for neutral ground in wide-open areas to cover more ground faster.
Each coil has its function. No coil is better than the other. It's all about where you intend to use it.
FAQs
Here are some of the more commonly asked questions about the AT Pro.
Is the AT Pro good for beginners?
The AT Pro is the perfect detector for beginners of all ages. It's easy to learn, inexpensive, and performs very well in a variety of terrains. It can be used to find coins, jewelry, and relics.
How deep does the AT Pro detect?
The AT Pro has a maximum depth of around 10″ for a quarter-sized object with the stock 8.5×11″ search coil. Maximum depth in any metal detector is affected by ground mineralization, target size, coil size as well as other factors.
What is the best search coil?
The best search coil for the AT Pro is the 8.5×11″ stock coil which comes in the box. While this is best for general hunting, different conditions make your choice of coil different. A smaller coil should be used in high trash areas like tot lots whereas a larger coil can be used in large open areas such as beaches and fields.
Does the AT Pro detect gold?
Yes, the AT Pro will detect gold. However, it's not a gold hunting detector. The Garrett AT Gold is better for gold nuggets than the AT Pro.
All metal detectors detect gold; the only question is can the machine handle the types of environments and terrains where gold is most typically found? (i.e., high levels of mineralization).
Can the AT Pro go underwater?
Yes, the AT Pro can go underwater and is fully submersible to 10 feet. While the entire detector can be submerged, the stock headphones are not waterproof. You'll need to purchase separate headphones for the water.
Is the AT Pro good for saltwater and wet sand?
The AT Pro does not perform well in saltwater or wet sand on saltwater beaches. It's 15 kHz single frequency technology is not made to handle the high mineralization of saltwater.
How much does the AT Pro weigh?
The AT Pro weight is 3.03 lbs (1.4 kgs). The total weight can change based on which coil you're detecting with.
What comes in the box?
The AT Pro comes with the following items:
8.5×11" DD coil
Land headphones
Instruction manual
Instruction DVD
Two Year Warranty card
You can also find some great bundles online that also include items like coil covers, pinpointers, pouches, bags, etc.
When did the AT Pro come out?
The AT Pro was released by Garrett in the fall of 2010.
Where to buy the AT Pro?
You can buy the AT Pro from any authorized Garrett dealer as well as Amazon.
How does the AT Gold compare?
See my complete article comparing AT Pro vs AT Gold.
Which is better Garrett AT Pro or AT Max?
See my complete article comparing Garrett AT Pro vs AT Max.
See all our Garrett metal detector reviews.