If you work with the ground at all, you know the importance of a good shovel. With an ordinary shovel, you have to put a lot of weight on it to even crack the ground sometimes, let alone dig a good-size hole. But with a great shovel like the Root Assassin, it feels like you're slicing butter.
The Root Assassin shovel is one tool a metal detectorist may want to consider adding to his arsenal.
The company was kind enough to send us their digger to review. Here's what we think:​
Why is the Root Assassin good for detectorists?
As metal detectorists, we're sunk if we don't have a great shovel by our side.
Without the right shovel, you'll never be able to dig deep enough in tough ground to reach our targets, especially if there are tree roots or gravel involved.
And if we can't dig deep enough, it doesn't matter that we've found great targets — we'll never be able to unearth them.
Plus, if you fatigue yourself just by digging a few targets, you're not going to detect as long as you would if you weren't tired.
The more time you spend out there detecting, the better your odds of making that once-in-a-lifetime discovery. And isn't that what every detectorist dreams about?
The Root Assassin is a heavy-duty shovel made for tough roots. That's important for detectorists, especially if they like to search by big, old trees.
I've had great success looking by old trees that I imagine were used as shade back in the day by people looking for a place to escape the summer heat.
I've found jewelry, coins, gold-plated lift-arm lighters and a lot of old toy cars, ships and helicopters by shade trees. And let me tell you, it wasn't easy.
I was in a battle with a lot of thick, tough roots that were protecting all the signals I was trying to reach.
The only thing that saved me was using a shovel with serrated teeth.
When there are roots involved, shovels with serrated teeth, like the Root Assassin, will help you recover targets quickly and with less effort than a traditional shovel.
Pros and cons​
Pros
It's lightweight.
Slices through roots with no problem.
It's durable and made with carbon steel.
Cons
It may bend if you use the shovel as a lever to pry hard ground.
Features
The best feature on this shovel is the 16 serrated teeth that are found on each side.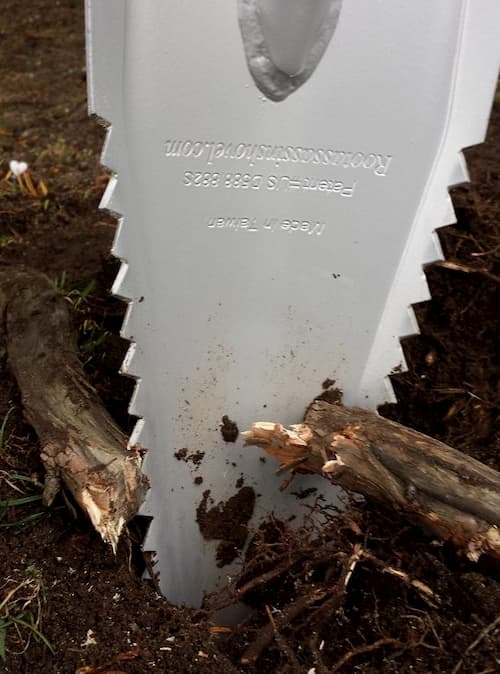 Here is what is unique about these teeth — they cut while digging in and when you pull your shovel out.
That double action makes quick work of the root you're trying to cut and get out of your way.
The teeth also help when you're searching in heavy clay soil that is a pain to dig with a traditional shovel.
The other great thing about this shovel is how easy it is to lift and carry around with you.
It only weighs 4 pounds.
As a detectorist, you're going to be lugging around a lot of equipment already, especially if you're doing a day-long hunt in a remote area.
You'll already be carrying your detector, a pinpointer, your treasure bag, plus any water, food, bug spray and sunblock you take with you on an extended hunt.
The last thing you need is a heavy shovel to take with you.
Because this shovel doesn't weigh much, you'll be able to take it with you and use it for hours without feeling exhausted and calling it a day early.
It cuts a neat plug, which is crucial as a detectorist.
Whether you're hunting at a public place like a park or you've been granted special permission to detect on private property, you don't want to earn a reputation as a detectorist who tears up the property he searches.
If you don't learn how to cut a neat plug, word will spread and fewer people will be willing to let you search their grounds.
The Root Assassin is made of steel which is then treated with a silver powder coat paint.
Since it's made of strong material, it should be durable. If you do have any issues with the durability, however, the company offers a 100 percent replacement guarantee.
The guarantee lasts for one year and will be honored with no questions asked.
This shovel has a grip on the handle, which makes it comfortable to use and easier on the hands.
Because the head of this shovel is so narrow, you won't have to cut a huge plug to reach a small target.
If you are good at pinpointing your target, you'll be able to cut a small plug once you've zeroed in on where the signal is coming from.
The length of the blade on this shovel is good for metal detecting.
You'll be able to cut plugs at up to a foot at a time, which is as deep as most smaller targets are found from the large majority of amateur metal detectors.
The Mini Root Assassin
If a full-size, 4-pound shovel is still too much weight for you to lug around, you may want to consider using the Mini Root Assassin.
Check latest pricing here for the mini version.​
It works using the same method as the full-size shovel, with the serrated teeth that work in both directions.
But the Mini Root Assassin is a lighter, shorter option at 2.2 pounds.
If you don't have much upper body strength or you want to conserve your energy for longer detecting sessions, you might want to go with the Mini.
It's also a good pick for shorter detectorists who have problems wielding a longer shovel.
And it goes without saying that a smaller digging tool is always preferred when hunting in public areas or small residential yards. See our responsible metal detecting guide here.​
Final thoughts
In addition to your metal detector, a good shovel is a key part of your success as a detectorist.
You'll need to find a heavy-duty option that is light enough that you'll be able to hunt day after day with minimal soreness in your arms and back.
No matter which shovel you decided to go with, remember to always fill in your plugs and be a responsible detectorist.
The kinder we are to the ground we search, the more rights we'll keep as detectorists.