Are you looking for the best pinpointer metal detector and want to get the most bang for your buck? With over 10 years of metal detecting experience, our top pick is the Garrett Pro Pointer AT. This all-terrain pinpointer is the newest model from Garrett Electronics, the world leader in metal detector pinpointers.
Here is a list of what I consider to be the top 5 best pinpointers on the market today. Prices can fluctuate, so be sure to check the latest using the links below.
Here are the best pinpointers in 2023
Let's take a look at each one of these pinpointers in more detail.
Garrett Pro Pointer AT
What we like:
Fully Waterproof and Submersible to Hunt Anywhere
Manual Sensitivity Adjustment for Better Depth and Smaller Targets
Manual Retune Function for Better Target ID
Lost Pro-Pointer Alarm So You'll Never Leave it Behind
Bright Orange Color For Easier Water Hunting
What we don't like
Only one button for all functions which can be hard to learn.
The Garrett Pro-Pointer AT is the newest version of the famous Garrett Pro-Pointer. The 'AT' stands for all-terrain which means you can use it underwater up to 10 feet which is perfect for creeks, rivers, lakes, and even ocean surf hunting. You can also use it in mud puddles out in the woods if you're hunting just after, or during a rainstorm. And when you get home from your hunt, just run it under water to clean, and you're done. No more covering the speaker hole with your thumb like on the old Pro Pointer!
Because this pinpointer can be used underwater, Garrett changed the color from black to orange. SO orange in fact that it's often referred to as the 'Garrett Carrot.' The reason for the bright orange color, of course, is so you can see it underwater. So when you want to pinpoint a target in a murky river, you'll never lose sight of your pinpointer.
The other big advantage of the Pro-Pointer AT is that it has three sensitivity modes – low, medium and high. This allows you to quickly find smaller targets at greater depths.
Another impressive feature is the ability to 'retune'. Retuning allows you to shrink the detection signal which allows you to gain an even more precise location of your target – one of my favorite features!
The Pro Pointer AT is lightweight (6.5 oz), has a 30-hour battery life and comes with a two-year warranty.
Read our full Garrett Pro Pointer AT review.
Nokta Pointer
What we like:
Highly sensitive, with 10 settings
What we don't like
Not for underwater use
Odd button placement
The Notka Pointer hit the market back in 2015 as the new and improved offering from this growing Turkish company and Nokta has in this case produced a very strong contender available for under $100. This unit has highly adjustable sensitivity, a lost pinpointer alarm, and is covered by a two-year limited warranty. It also includes an LED light and can be toggled between audio, vibration, and audio + vibration modes.
There are a couple of weaknesses to mention, however. Firstly, the Pointer is submersible up to three feet, but is not for sustained use underwater. Those who frequently hunt beaches, particularly in the water or at the waterline, will probably want to look elsewhere. Secondly, the controls for this pinpointer are located at the butt-end of the battery cap, making it awkward to use one-handed.
Nevertheless, Nokta has done a commendable job of making a solid pinpointer at a palatable price for land hunters and occasional beach detectorists.
Garrett Pro Pointer II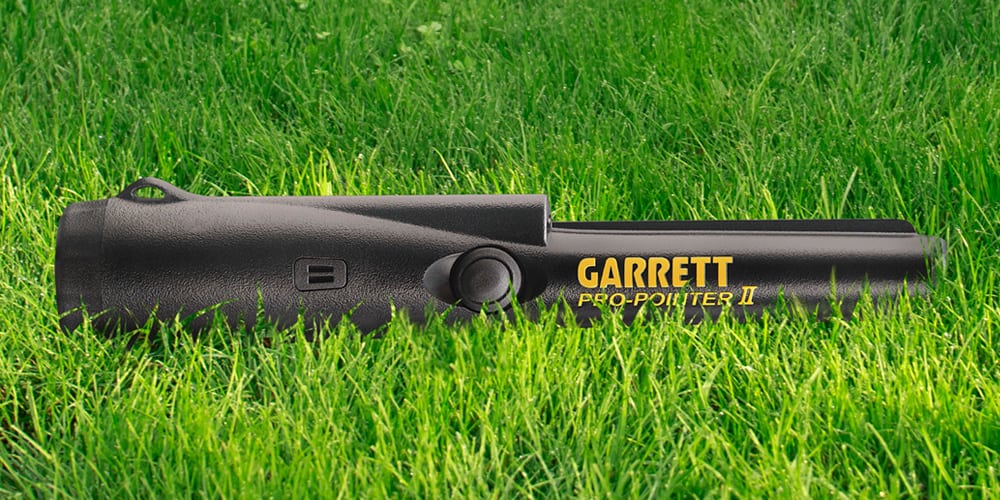 What we like:
Slightly cheaper than the Pro Pointer AT with similar functionality
Lost pinpointer alarm
What we don't like
Not fully waterproof
No sensitivity adjustment
The Pro Pointer II is an earlier generation of pinpointer from Garrett, preceding the Pro Pointer AT. The functionality of the unit is essentially the same, with proportional target response, automatic tuning, and vibration, audio, or both. The major differences between this and the Pro Pointer AT are twofold. Firstly, the Pro Pointer is "splashproof", but cannot be submerged. This is obviously a dealbreaker for any detectorist who spends a fair amount of time on the beach or detecting creeks and streams. Secondly, this pinpointer does not have adjustable sensitivity like its successor. But even without these features, the Pro Pointer II sports an intuitive design and does its job admirably as a reliable, rugged pinpointer for use on land. We rate it as a runner-up behind the Pro Pointer AT. See our complete guide to the Garrett Pro Pointer 2 vs Pro Pointer AT.
XP MI-4 and MI-6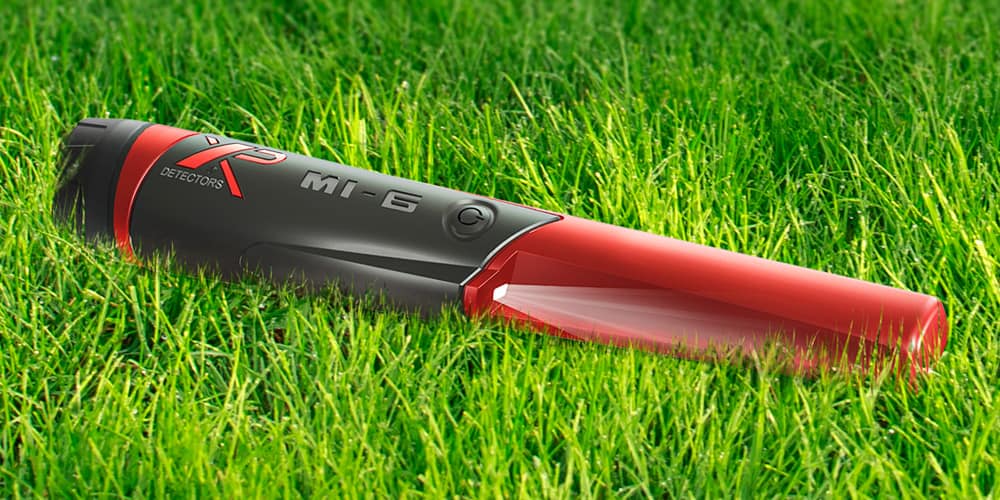 What we like:
Rechargeable battery
Waterproof to 20 feet
Can link to the Deus (MI-6 only)
What we don't like
Considering its advanced features, no discrimination
XP is most well-known for the XP Deus, one of the most advanced (and expensive!) detectors on the market. The MI-4 and MI-6 pinpointers by XP fit with the reputation the company has established for reliable and innovative products. The MI-6 is the more expensive and more advanced of the two, sporting many features to be used in combination with the Deus, such as pinpointer locating, pinpointer audio through the detector and headphones, and a mind-boggling 50 levels of sensitivity to choose from. The MI-4, while lacking the pairing features, is still a strong contender for any potential buyer, with adjustable sensitivity, a rechargeable lithium battery, and six operational programs to chose from. All of this comes at a price point slightly below that of the F-Pulse or Pro Pointer AT (for the MI-4), making this a serious option for anyone in the market, and the extra features of the MI-6 make the higher-end model a no-brainer for anyone already running a Deus.
Minelab Pro-Find 35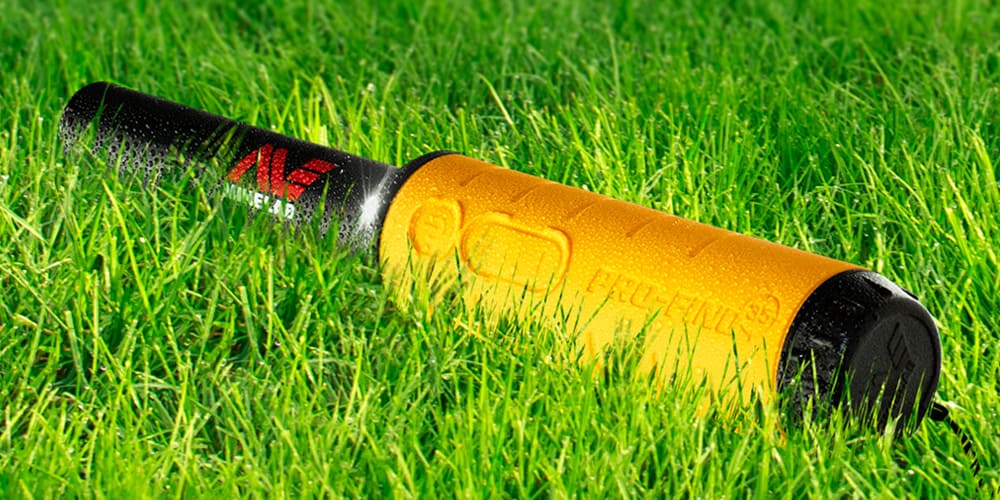 What we like:
Highly adjustable sensitivity
Ferrous target tone
Waterproof to 10 feet
What we don't like
Ferrous target tone isn't completely reliable
Not recommended for underwater hunting
Minelab and Garrett are perhaps the two biggest competitors in the metal detecting world. After Minelab's less-than-stellar results and sales from the Pro-Find 25, the company released two revamped models: the Pro-Find 15 and the Pro-Find 35. Our concern here is the Pro-Find 35, the more expensive of the two units. With five sensitivity settings, the Pro-Find 35 is very adjustable and proves its worth in ferreting out small targets. Unlike Minelab's previous model, this machine is sufficiently waterproof for river and beach detecting, though probably not for underwater metal detecting. One of its most interesting features is its ability to discriminate between ferrous and non-ferrous target via audio tone. While this gives it a leg up on Garrett's offerings, some users have reported that the function isn't completely reliable and you might still find yourself pulling nails out to ensure that they aren't your intended target.
Fisher F-Pulse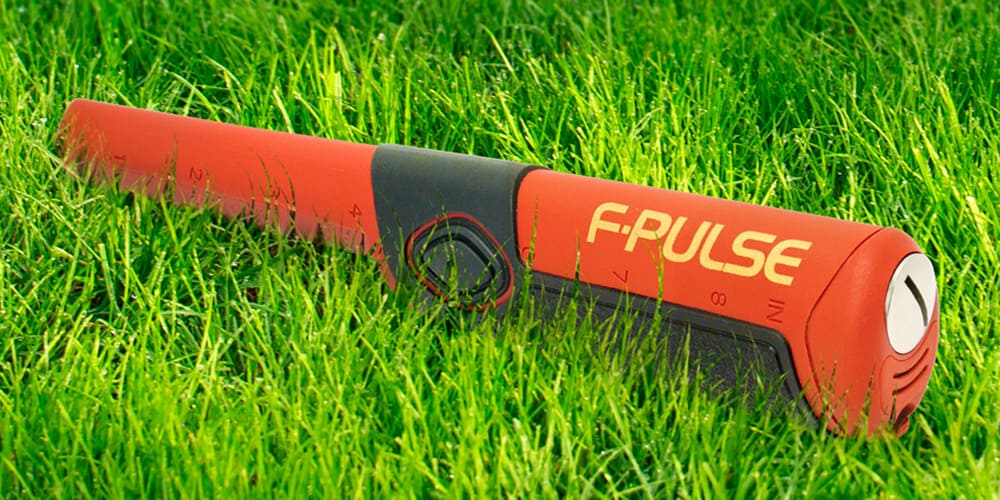 What we like:
Good sensitivity for small targets
Uses pulse induction technology
Uses AA batteries
What we don't like
Initial reports of quality control issues
The F-Pulse pinpointer was released in 2017 as Fisher's foray into the pinpointer market and at roughly the same price point as Garrett's Pro Pointer AT. Many users have enthusiastically endorsed the F-Pulse and its use of pulse induction rather than the typical VLF technology of other pinpointers. The F-Pulse is also waterproof up to six feet, making it suitable for beach detecting. Unfortunately, the early F-Pulse pinpointers seemed to suffer from some quality control issues and a second iteration of the pinpointer was released in order to address issues faced by the original model. These problems seem to have been ironed out by Fisher, but the latest model has been reported by users as less sensitive than the original.
Nokta PulseDive 2-in-1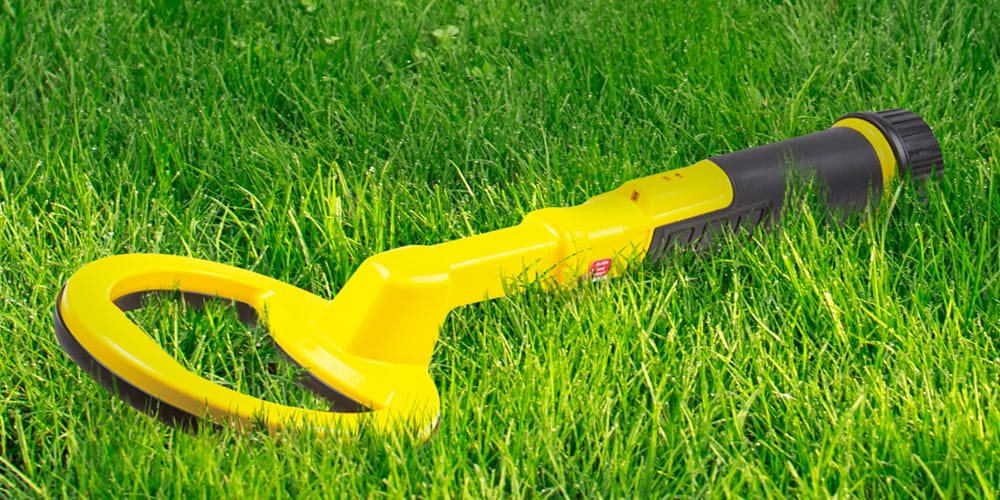 What we like:
Good value for money
Best option for underwater detectorists
This unit is one of the few pinpointers out there directly targeting detectorists who scuba dive or snorkel for their finds. It is waterproof up to 200 ft, utilizes pulse induction (providing superior performance in saltwater), and the pinpointer probe can be quickly switched out for a 5.5" search coil, about the size of a sniper coil for land hunting. The PulseDive also has a rechargeable lithium battery, adjustable sensitivity, and comes with a two-year warranty. Having a combination pinpointer and handheld metal detector is remarkable enough, but even more notable is the price tag: well under $200 from most retailers. Considering the expense of many of the serious saltwater machines on the market (and your potentially speedy return on investment from jewelry in the water!), the PulseDive is a solid buy for serious beach and underwater detectorists as well as those looking to dip their toes in the proverbial water.
Falcon MD20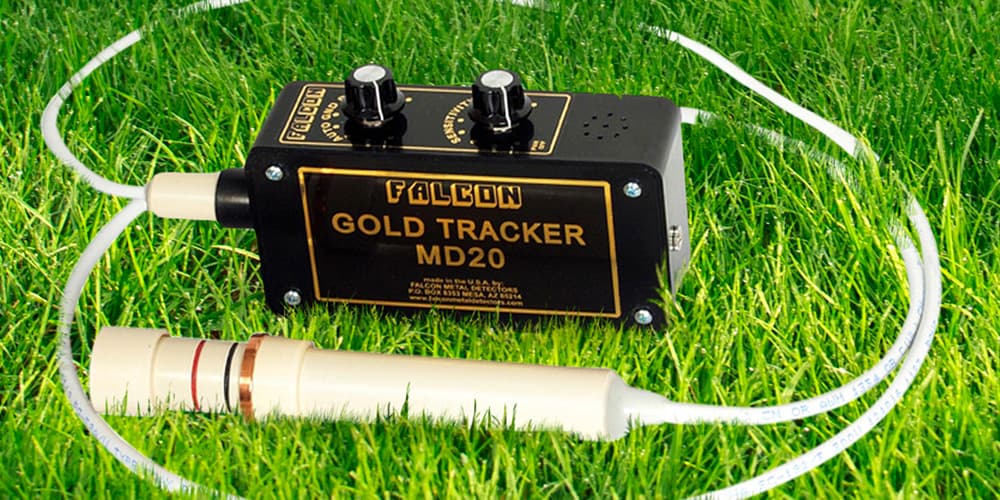 What we like:
Very good for finding tiny gold
Able to probe small crevices
The Falcon MD20 is probably the most specialized unit on this list and might more accurately be referred to as a probe rather than a pinpointer as the term is typically understood. A fair number of prospectors use metal detectors as one of the tools in their toolbox, but most pinpointers have trouble picking up those very small pieces of gold. This is where the MD20 comes in. It is specifically designed to find very small gold – operating at an extremely high 300 khz – and gives the user directional audio tones helping to indicate what the composition of that target might be. For the serious prospector, this could be used in tight areas where one couldn't get a metal detector, to find very small pieces of gold in a small, rich area, or even to assess what sort of metal is present in a rock. All this is not to say that one couldn't use the MD20 for relic hunting or coin shooting, but it would be far less convenient than many of the other choices here.
Final thoughts
What if you could walk away from every hunt with more finds in your pouch? What if your body didn't ache six days after your hunt from all the bending over, kneeling and squatting while digging? These are just two reasons you should think about getting a pinpointer for metal detecting.
Choosing a pinpointer doesn't have to be difficult. Consider the features you want and your budget. I hope this article was helpful. Now choose your pinpointer and get hunting!
Related: What is a pinpointer