The Garrett Pro Pointer AT is the big brother to the original Pro Pointer which ruled supreme over other pinpointers since its release in 2008. While the original Pro Pointer set the standard, the Pro Pointer AT takes it to a whole new level.
Save Time Digging and Find More Targets
If you've never owned a pinpointer – or just started out with a more budget-friendly model, you've probably noticed by now that digging is a pain – literally.
Wouldn't you like to spend less time in the dirt, and more time recovering that elusive Indian Head Penny, gold wedding band, or even a fired bullet from the Revolutionary War?
The Pro Pointer speeds up your recovery times by 'zeroing-in' on your treasure and helps you extract it from the earth much easier, cleaner and safer (there's nothing worse than putting a shovel mark on your 1901 Morgan Dollar).
The faster and easier your target recovery, the more time you spend detecting, the more finds in the ole treasure pouch at the end of the day!
Get in the Water and Find Targets Others Have Left Behind
Never again will you have to avoid taking your pinpointer to creeks, lakes, swimming holes, the beach or even out in the rain.
Whether you're a water hunter or just have a tendency to get caught out in the rain on long hunts, having a waterproof pinpointer is a no-brainer.
Do you typically clean your pinpointer by running it under water after each hunt? Never worry again about creating water damage.
Take Control over Your Sensitivity
One of the things Garrett customers pleaded for in the new Pro Pointer was the ability to manually adjust the sensitivity.
Why would you want to manually adjust the sensitivity?
There are a few reasons really.
Beach hunters and gold prospectors for example hunt in extremely mineralized grounds. This can cause a pinpointer to "false" – or pick up on the high mineral concentration in the dirt, sand or rocks. Reducing your sensitivity in these environments will dramatically reduce the amount of falsing – and frustration!
Coin and relic hunters who are in less mineralized ground can increase the sensitivity to get better depth and have the ability to pinpoint the tiniest of targets. This also allows you to digger smaller holes – an important element of the Metal Detecting Code of Ethics.
Manual control of sensitivity also allows you to 'retune' your pinpointer to zero-in on your target – or 'shrink' the signal. It's tough to appreciate this if you've never used a pinpointer. Re-tuning can be difficult to understand at first, so check out this short video clip for a quick demonstration.
Control Your Audio and Avoid Unwanted Attention
Have you ever been detecting in a public park, beach or school and not wanted to bring attention to yourself? BEEP, BEEP, BEEP, BEEP!
Where's the volume on this thing!?
The Pro Pointer AT allows you to select between two audio modes – Audio/Vibrate (same as the regular Pro Pointer), and Vibrate-only.
The vibrate-only mode does not beep and can be used as a silent mode.
The audio/vibrate mode is the same as the original Pro Pointer – you will hear a loud audio beep and feel strong vibrations when over a target.
This ability to select audio modes makes the Pro Pointer AT more versatile for different environments.
Carrot-Like Orange Guarantees You'll Never Lose Sight of Your Pro Pointer AT Underwater
It's a cool summer evening – you're at the beach.
The water is just slightly warmer than the air.
The sun is about to set.
Most people have left the beach for the day – you now have it all to yourself.
You're wading in the ocean and all of a sudden:
BAM!
Your detector hits gold.
It's an iffy signal – at best.
You get out the other brand's pinpointer, dip down and try to pinpoint.
"Dangit – I can't see this black pinpointer through this sandy, murky water – and the sun is starting to set!"
Instead of letting the sunset on your gold wedding ring, consider the bright carrot-like orange of the Pro Pointer AT.
Never Lose Your Pinpointer
You may find this shocking, but more people than you think have actually lost their Pro Pointer in the woods, at the beach, or grassy field.
Think about it:
You're out in the woods and you recover a civil war button in pristine condition.
After completing a series of fist pumps (and maybe even a cartwheel), you drop your new button in your pouch and continue on with your hunt.
But wait.
You set your pro pointer down next to the hole and forgot to pick it up and you don't realize during the 10 minutes you were dreaming about finding more civil war relics.
By now you could be 50 yards away from where you left your pro pointer and you may very well never see it again.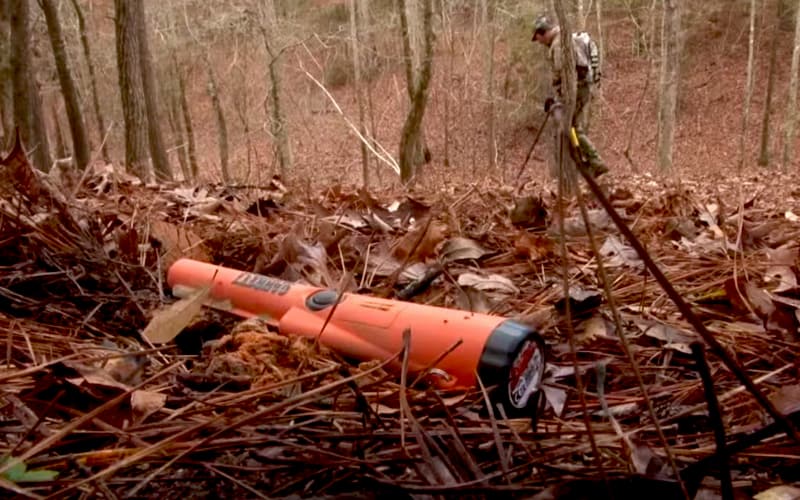 At least you have the civil war button to make up for it.
The Pro Pointer AT has a built-in alarm system that will start to sound off after 5 minutes of inactivity. It will 'chirp' for up to 1 hour which should be plenty of time to track back and retrieve it.
You may be thinking this will never apply to you. But there's a reason why Garrett added this highly sought after feature in the new AT model. They've even gone so far as to add a lanyard ring so you'll always have your pinpointer at your side.
Extend the Life of Your Batteries
There's no worse feeling than starting off your hunt with a dead battery in your pinpointer.
And if you didn't pack a spare (like we always recommend), you're going to have one heck of a time trying to pinpoint targets.
The Pro Pointer AT has two battery-saving features that will save some juice and prolong the life of your batteries.
The belt holster that's included with the Pro Pointer has a metal snap that will cause your pinpointer to start beeping if you try putting it away without turning it off – a simple yet brilliant feature
The 'auto-off' feature, as the name implies, will automatically power down your pro pointer after 1 hour of inactivity.
In addition to these 2 battery-saving features, the Pro Pointer also has a built-in Low Battery Alarm. So when that starts beeping, you know you need to start thinking about getting a new battery.
But don't worry too much about your batteries dying.
The Pro Pointer comes with a 9V Alkaline Battery which generally gets 30 hours of use before needing to be replaced.
Find Targets Easier with Pinpoint Accuracy in ­ALL Terrains
We rank the Garrett Pro Pointer AT #1 in our list of the best pinpointer metal detectors.
The Pro Pointer AT is the pinpointer designed for every type of hunter, in every type of environment.
It weighs in at only 6.5 ounces, and measures 9 inches longer 1.5 inches wide – small enough to fit in any treasure pouch.
Its rock-solid construction is Made in the USA and backed by Garrett's 2 Year Warranty.
Get yours today and join the thousands of detectorists already finding targets easier with pinpoint accuracy in all terrains.
Related: Garrett Pro Pointer AT vs Pro Pointer 2.