If you're looking for a good entry-level detector that won't break the bank in your search for treasure, the Fisher F44 is an excellent machine to consider.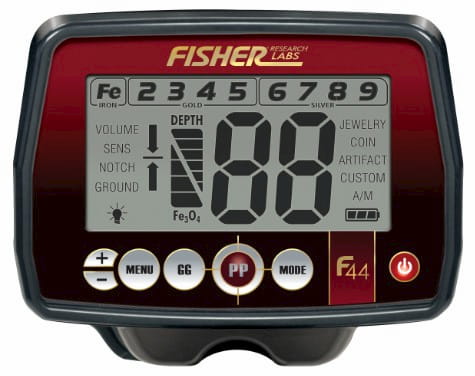 Weatherproof, Versatile, Powerful
Super lightweight and versatile, the F44 is a solid entry-level detector that won't break the bank.
What we like:
It's lightweight at 2.3 pounds.
Adjustable Iron Audio so you can quickly identify trash.
The control box is weatherproof.
Manual and automatic ground balance.
What we don't like:
This machine isn't a good one to use in wet sand or saltwater coastlines.
The F44, which was released in 2015, is one of the newer detectors in the company's popular F series, and it's the replacement of the earlier F4.
It has several great features, including:
​Adjustable iron audio
Weatherproof control box
A backlight.
Both Manual and automatic ground balance.
Five search modes.
You'll be able to quickly figure out how to operate this machine, which is nice if you feel intimidated by hard-to-understand equipment.
Here's a quick list of the pros and cons of this metal detector.
Let's take a closer look at some of the features of the F44.
Modes
The F44 features five search modes so you can choose what you want your detector to look for on any given hunt:
Jewelry – this mode will overlook iron signals.
Coins – you'll get rid of iron signals, pull tabs and other trashy signals.
Artifact – you'll get all iron signals, which may lead you to some great historical relics.
Custom – you get to create your own search parameters with the notch feature.
All metal – as the name implies, you'll get all metals with this mode.
Screen features
When you're metal detecting, you'll find that the screen can make or break your feelings about a detector. The best screens are crystal clear and intuitive to use.
If you find yourself scratching your head about what the readings on your screen mean, you'll be wasting your valuable search time!
Here is a breakdown of some of the F44 screen features:
It has the backlight for hunts in the dark.
The screen is large and easy to read.
You'll see the 9-segment discrimination scale on your screen at the top, which helps you determine which type of metal you may have found.
It also shows which search mode you've selected.
It shows the depth indicator for your signal.
You'll even have a battery power indicator.
The two-digit target identification is featured in huge numbers.
It has menu category icons that will let you quickly tinker with volume, sensitivity, and notch.
Audio tones
The F44 has four tones to help you distinguish between the type of metal you've found — bass, low, medium and high.
Iron audio
It offers adjustable iron audio that will let you amplify iron signals so you can easily distinguish more valuable targets from worthless junk hits. With this feature, you'll be passing by signals that sometimes fool veteran detectorists!
Auto/manual ground balance
This detector features both manual and auto ground balancing, which will help you hunt in high-mineralization soils.
But even though this detector offers both, it's still not a good pick for wet sand along saltwater coastlines. The ground balancing isn't enough to handle this tricky hunting condition.
Detector comparisons
Let's take a look at how the F44 compares to some similar detectors:
F44 vs. F22
The F44 is worth the extra money you'll pay because of its automatic and manual ground balancing feature.
Plus, the coil you'll get on the F44 is 11 inches, compared to the smaller 9-inch coil on the F22. That'll give you better depth on the F44.
The F44 will also give you one extra search mode — the all-metal mode.
See our complete Fisher F22 review.​
F44 vs. F4
Since the F44 is the upgrade of the F4, you'll see several additional features on it.
The F44 has a higher operating frequency at 7.8 kHz, compared to 5.9 kHz.
It also has the backlight, which the F4 does not.
Plus, it has the adjustable iron audio, which the F4 lacked. And it has both computerized and manual ground balancing, compared to the manual offer by the F4.
F44 vs. AT Pro
You'll pay more for the Garrett AT Pro, but you'll get a detector that can be submerged up to 10 feet underwater.
The AT Pro has several additional features not found on the F44 for the serious coin and relic hunters.
F44 vs. Garrett Ace 400
The Garrett Ace 400 may have one more search mode than the F44, but you'll only be able to use the factory preset ground balancing on it. It doesn't have a manual ground balancing feature.
While the F44 is a weatherproof machine with a waterproof coil, the Ace 400 only has a waterproof coil. You'll have to head indoors at first sight of rain.
F44 vs. Eurotek Pro
The Eurotek Pro is a cheaper machine, but you'll lose a lot of features for the money you'll save, including the backlight the F44 has.
The Eurotek only has auto ground balancing, and the whole machine isn't weatherproofed like the F44. It only has a discriminate mode, compared to the five modes on the F44.
You'll be better off with the F44.
FAQ
What accessory coils are available?
Three different sizes of accessory coils will work with the F44, giving you lots of choices for depth and coverage area.
You can get the 7-inch coil and the 9-inch teardrop coil, in addition to the 11-inch triangulated coil it comes with.
What comes in the box?
In addition to the easy-to-assemble detector, you'll get a comprehensive manual for your detector. You can read it first, or let your enthusiasm take you right outside to begin your hunt!
What's the maximum depth?
There's no magic answer here because depth depends on several things, like the size and type of metal and ground conditions.
But, the F44 should be able to pick up a quarter in 8 to 10 inches of neutral soil with it's large 11″ coil.
Can it be used to hunt for gold nuggets?
It is capable of finding larger gold nuggets, but it isn't the best choice for that.
Ideally, you'll want to find a detector with a higher operating frequency for gold prospecting.
Is it waterproof or submersible?
The coil is waterproof and submersible, but the control box is only weatherproofed for rain situations. You definitely don't want to try to submerge this detector in water!
Final thoughts
If you're looking for a detector that will give you high-quality features that won't cause you to miss a mortgage payment, this is a solid choice.
It's light, powerful and you'll be able to hunt as late into the night as your back can stand!
See all Fisher detector reviews.